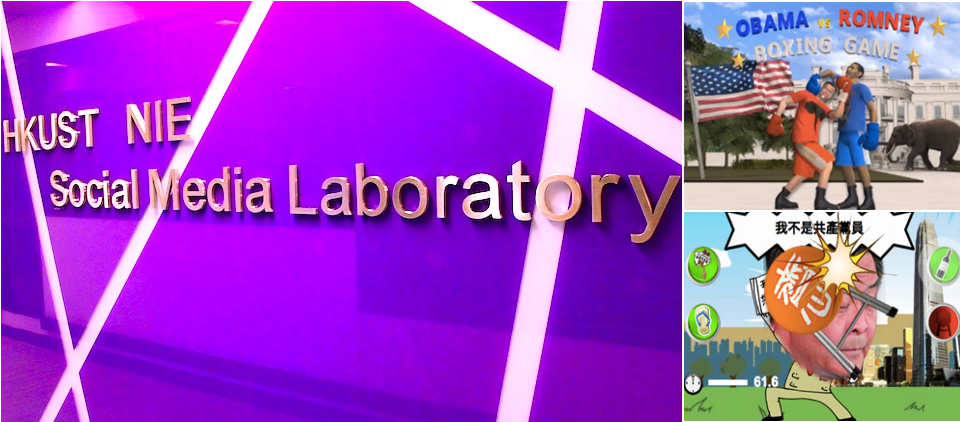 Workshop and competition for SML Members, CPEG Students and all HKUST Students
Results of the competition
The winners are as the followings:
Winner:
2 First runners-ups:
Congratulations to all of the winners and thank you to all participles for joining the competition!
The goals of this workshop are training student:
1. to know the details of newsgames in the game and media industries;
2. to create mobile social game using HTML5 for the competition;
3. to startup their own game businesses;
4. to acquire hands-on experiences for job opportunities expected by media/game industy like NextMedia, nxTomo, marketjs, etc.
Date:
17th and 18th April 2013 (6:00 PM - 9:30 PM) &nbsp &nbsp &nbsp
Venue:
Room 4621 (Lifts 31-32)
Quota:
50
(Students should bring their own laptop and mobile device)
Target:
Social Media Lab members, CPEG students and all HKUST Students. Students without programming knowledge can also join. Your newsgame produced in this workshop will be enrolled into competition co-organised with Nextmedia.
Requirements, application procedure and deadline for the competition:
Here
.
Prize:
Champion: HK$5,000 cash!
2 first runners-up: HK$2,000 cash each!
To register for the workshop, please:
complete this online form: &nbsp Here
pay registration fee ($40) to Miss Vicky Yuen at Rm 2457, lifts 25-26
Students successfully registered will be informed by email before 17 April.
1st Day - Introduction to HTML 5 Gaming Design Basics
1. HTML5 and Mobile Gaming (1 hour)

HTML5
Mobile Gaming
Newsgame

2. Introduction to HTML5 Gaming (1 hour)

Visualize the newsgame dev cycle
How to write GDD
Introduction to game engines
Game mechanic and game play

3. Create the first Hello world game (1 hour)

Run on mobile device
Use of sensor
Animations and audio
2nd Day - HTML 5 Games Building
1. More on HTML5 Gaming (1 hour)

Connect to social network
Cross platform issue
Introduction of game engines

2. Game building (2 hours)

Implementation of a Mobile game (Newsgame)
---